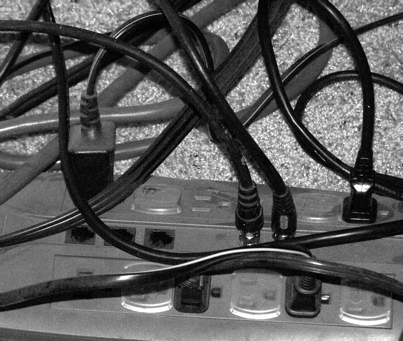 Does this surge protector look like yours? Loose tangled cables and cords look messy, and they attract unwanted dust, which can cause a fire. The best way to manage your cable and cord problem is to get the CableBox and Pinza Cord Holder.
The CableBox keeps your workstation looking tidy. Simply place your surge protector inside CableBox. There is no need to unplug any of your cables or cords beforehand. Then stow away the extra cable and cord lengths, close the lid and ta-da!
The Pinza Cord Holder is great at keeping up to 4 cables and cords in line. Use the larger Pinza to hold your smartphone charger, laptop power cord, USB cable, and ethernet cord.
Thema's Tech Tip: Dust bunnies love surge protectors. Unfortunately, these bunnies can cause a fire. Therefore, you need to keep your protectors clean but make sure that you disconnect them before you start cleaning. Also, check to see if your protector has a warranty similar to how a laptop has a warranty. Have you ever had a surge protector not block a voltage spike and ruin one of your tech items?