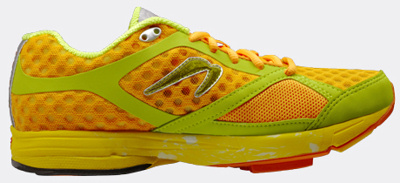 Absolutely! Running shoes come in all shapes, sizes, colors, and performance levels. Like a lot of savionaires, I require a good stability trainer made with recycling in mind. I had been hearing a lot about barefoot/natural running shoes, but those type of shoes have your feet unsafely close to the ground. What happens if you step on a nail? Newton Running's top-of-the-line Motus stability trainer offers the best of 3 worlds: stability, natural running, and green features.
The upper portion of the Motus, which means Motion, has a highly breathable, fast-drying, open screen mesh and minimal anatomical support strapping. The midsole has dual-density medial posting to the forefront and an anti-friction, anti-bacterial sockliner, which accommodates orthotics. Lastly, the outsole is made of high-density rubber and has minimal surface area contact. The slip-proof laces, webbing, insole topcover, shoebox, and packaging are all 100% recycled products.
As a personal trainer, I have come across many running shoes. However, the Motus has been the best fitting, high performance sneaker I have ever jogged in. Some shoes use a high sticker price as a gimmick. Newton Running does not. It's top-of-the-line stability shoe is absolutely worth the price.
Thema's Tip: Choosing the proper running shoe based on your running gait is crucial. Before choosing which Newton Running model is best for you, check out this video. What is the most you have ever paid for a running shoe?