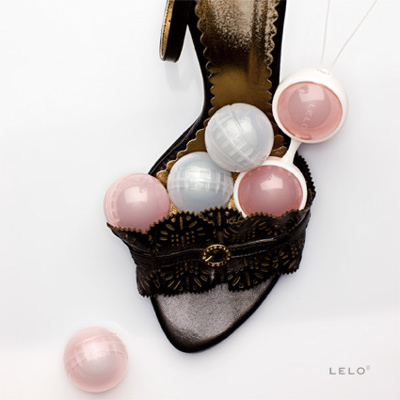 One of the most common questions I'm asked is, "How do you keep your feminine area right and tight? It's simple: Kegel for my Bagel. Unfortunately, as female savionaires get older, go through pregnancy and childbirth, gain weight, and elect surgery for female problems, our pelvic floor muscles stretch and weaken. These muscles support the uterus, bladder, small intestine, and rectum. To keep them fit and strong like any other muscle, we can do Kegel exercises. I use LELO LUNA Beads, the world's best selling Kegel weights system, to do my exercises.
LELO LUNA Beads come with a full 1-year warranty and are made with FDA-approved and phthalate-free ABS/silicone. The set of two 28-gram and two 37-gram beads are like mini dumbbells used for a varied resistance routine. If you prefer a more sensual color, then get LUNA Beads Noir.
Mistress Susan's Sexy Secret: Men, you, can do the male version of Kegel exercises. It will help you to better control your releases. Your partner will thank you for it.
Mistress Susan, Savionaire's Sex Columnist, is a Phone Sex Operator and heroine in Savionaire's phone sex mystery series. Email your sex-related questions, tips, or comments to askmistresssusan@gmail.com. Put "Ask Mistress Susan" on the subject line. Read the disclaimer in the right column under the Ask Mistress Susan section.
Repost of October 13, 2012 article