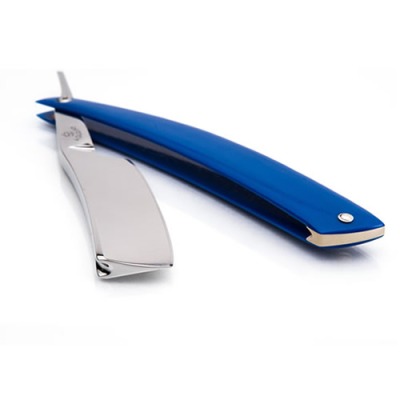 A shaving kit usually includes a natural badger bristle brush, soap, and a bowl. However, no shaving kit is complete without an Alex Jacques custom-made straight razor.
Each razor, which comes with a lifetime limited lifetime warranty, has many special features such as:
– O1 tool steel hardened to HRC 60 giving a long-lasting edge
– 100% hand made by Alex Jacques
– "Smiling" blade shape with a 7/8″ wide blade
– Hand-filed spine work
– Stamped maker's mark
– G10 (a high strength fiberglass/epoxy laminate) scales
– New "bracing system" that is fully functional with a more modern look and made of brass and stainless steel
– Adjustable stainless steel pivot pins (front and back)
– Phosphor-Bronze pivot bearing washers
– Nickel-silver wedge/spacer pin with stainless steel washers
– Shave-ready
Alex Jacques even offers a signature line of leather strops for your razor. The razors ($800+) and strops ($75+) are available at www.vintagestraightrazor.com.
Susan's Secret: Using a straight razor is serious business. Click here to learn how to properly use this type of razor without injuring yourself.
Image Credit: Copyright © 2012 VintageStraightRazor.com. Alex Jacques Razor Straight Razor Blue.