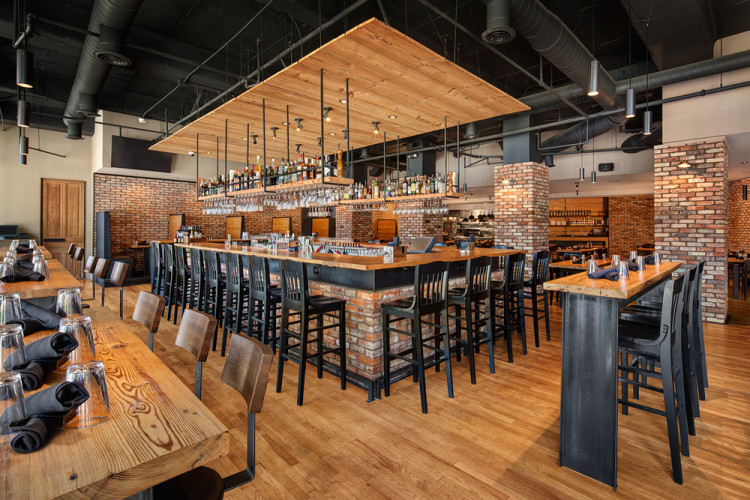 Tavern Pointe, which opened last year in Atlanta's Ansley Park, offers contemporary American dishes with a Latin flavor. The service was excellent from start to finish. When my lunch buddy and I walked in for lunch, the host immediately recognized us and tried to find us a booth. Since the booths were all full, he let us take a seat wherever we wanted and had no problem with us choosing a table meant for six.
The waiter was very attentive and pleasant. He made sure that my lunch buddy and I were well taken care of from start to finish.My only suggestion to him is to watch how he uses his hands because he tends to over gesture, which caused him to sometimes wave his hand over our drinks and food.
The food and drinks were fresh. I had the Smoked Baby Back Ribs with Green Beans and Fries. My lunch buddy had the Boss Burger, since he is a "Boss," and the Soup of the Day. The ribs were good, but they needed more Coca-Cola BBQ sauce. If you order the ribs, make sure you order warm sauce on the side. The burger was good, but a small piece was charred as if it were cooked too fast. The soup contained duck, rice and potatoes, which were hard instead of soft. The bartender made me a sweet cocktail that was refreshing, and the sweet tea was tasty. (Rating: 3.5 forks)
Tavern Pointe, 1545 Peachtree St, Suite 101, Atlanta, GA, 30309, 404-549-3954
4 forks – book reservations immediately
3 forks – plan a dinner & a movie night
2 forks – wait until you have a coupon
1 forks – cook your own version of their entrées
0 forks – call the health department
Mistress Susan Secret Tip: To mix things up when dining out, always ask the bartender to make you a special concoction.