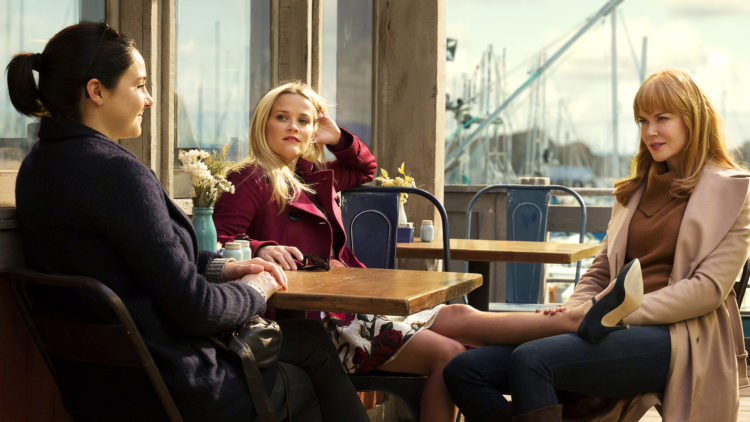 HBO's Big Little Lies is available now on Digital Download!  Big Little Lies is a seven-episode limited series that takes place in peaceful Monterey, California, but everything is far from being tranquil. The series centers around three moms who are friends – Madeline (Reese Witherspoon), Celeste (Nicole Kidman) and Jane (Shailene Woodley). The women have to navigate dealing with their families, exes, social status, gossip, secrets and betrayals.
Review: 3.75 Buckets of Popcorn. Big Little Lies is full of strong performances, especially by Kidman and Alexander Skarsgård. I love mysteries, and there is a storyline that will keep you guessing until the end. The only part I didn't like about this series (I'm an honest reviewer) is the storytelling style, which seemed like a copy of The Affair series, but that hiccup wasn't enough to turn me off from binging on it.
4 buckets of popcorn – buy it ASAP and binge
3 buckets of popcorn – rent it
2 buckets of popcorn – wait for it to go on sale at a bargain price
1 buckets of popcorn – borrow it from a friend or library
0 buckets of popcorn – don't waste your time
Mistress Susan Secret Tip: Do you want to win a digital copy of Big Little Lies? To enter the giveaway, you must be aware of this mystery series, follow Mistress Susan TV on Twitter, leave a comment discussing what you think one of the big little lies is, and subscribe to the e-newsletter. Entries must be received by Fri., Aug. 11. The Blu-ray and DVD hit the streets August 1.